LVAC Marches in South Salem and Goldens Bridge Memorial Day Parades
LVAC members marching in the 2015 South Salem Memorial Day Parade

LVAC Stands By at 2015 Leatherman's Loop
Seventeen LVAC members stood by to handle any medical emergencies that arose at the 2015 Leatherman's Loop trail race in Ward Pound Ridge Reservation on April 25.
This is the twelfth year that LVAC has supported this event.

LVAC Salutes Six 100 Calls/1000 Hours Members

At its annual Awards Luncheon, LVAC saluted the riding members who had exceeded 100 calls or 1000 hours of service during 2014.

(L to R) Celine Graae, Bob Stoddard, Dan Murtha, and Jason Hinkley (Missing: Lucian Lipinsky and Kevin Norton)

LVAC Elects 2015 Board
Front, L to R: Assistant Captain Dan Murtha, Captain Lucian Lipinsky, and Secretary Steve Ohnemus

Rear, L to R: Treasurer Doug Hux, President Ann Hirsch, Director Celine Graae, Vice President Nancy Musich, Lieutenant Jason Hinkley

LVAC Adds New Weapon In Battle

With Opioid Overdose
With the growing number of people addicted to and abusing prescription or illegal opioids - and subsequently overdosing - EMS first responders including Lewisboro's Volunteer Ambulance Corps are being enlisted to bring life saving medical intervention to the front line battle.
Along with the dramatic increase in the number of prescriptions written for opioid medicines in the US, tripling from 76 million to well over 200 million between 1991 and 2010, The Centers For Disease Control reports that heroin overdose deaths have doubled in much of the nation in the last two years while the US National Institutes Of Health reports that the first time heroin user has now reached epidemic levels.
Reacting to this challenge many States, including New York, are authorizing EMS and Law Enforcement agencies to train and equip their members in the administration of the overdose reversal drug known as Naloxone. Long used by Paramedics to directly reverse opioid effects Naloxone, also known by its brand name Narcan, is now being carried by LVAC EMTs along with other life saving equipment such as Automated External Defibrillators (AED.)
The Intranasal Naloxone Overdoes Kit contains two prefilled syringes of Naloxone and two mucosal inhaling devices, allowing the correct dosage to be administered into the patient's nostrils. "It's definitely a game changer," says LVAC Captain Robert Stoddard, "because of its ability to reverse the effects of an overdose almost immediately.

LVAC Thanks Community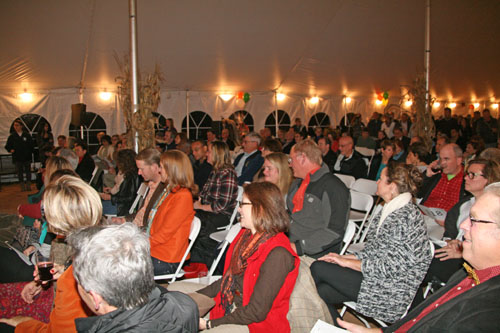 A huge thank you to all of the Lewisboro community members and business owners, our volunteers, Waccabuc Country Club staff, and our membership, worked tirelessly to make our annual auction a great event.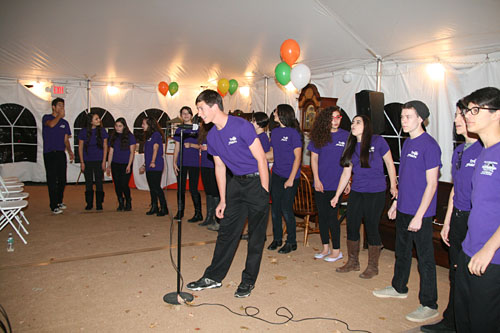 All of your effort and financial support will equip LVAC members with much needed defibrillators all around our town. Our goal is to always be ready to help if you need us.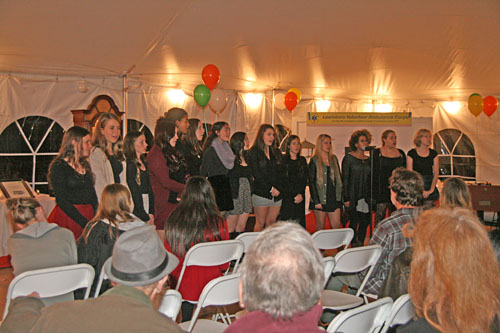 Thanks for being there when we needed you!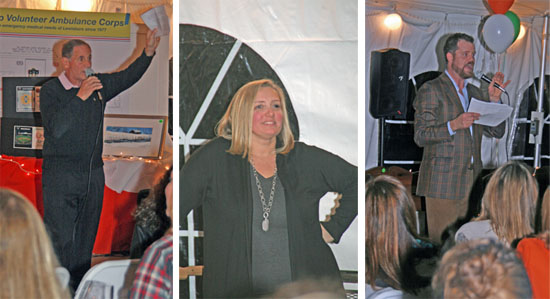 LVAC Captain Bob Stoddard's Letter to the Lewisboro Ledger on Green Lights
To The Editor:
On any 911 emergency call, the most important element for a successful outcome is getting help to the caller as quickly as possible. With a non-paid volunteer organization like LVAC (Lewisboro Volunteer Ambulance Corps), or local fire departments, members are alerted to a call on their pagers and they respond directly to the scene or to headquarters in their private vehicles.
Recognizing the urgency involved in getting help to the sick or injured in a timely manner, New York State Department of Transportation has authorized qualified agencies, such as LVAC, to permit its members to display a flashing green light on their vehicles in order to alert other drivers that the driver is an ambulance corps member responding to an emergency situation. (Fire department volunteers use a blue light.)
While the green light does not allow the driver to deviate in any way from normal vehicle and traffic laws, it is a signal designated to suggest to other drivers that they voluntarily pull over and let the first responder go past them in a safe manner. There are many occasions when driving to a serious 911 call when cars in front ignore the green light and delay a timely response to a victim or patient. Please help your ambulance corps respond as quickly and safely as we can to an emergency by recognizing the significance of the green light.
Robert Stoddard

LVAC Captain

LVAC Hosts Lewisboro Chamber of Commerce Members for CPR Education
LVAC EMT Celine Graae shows Lewisboro Chamber of Commerce President Tom Fischetti the new Lucas Mechanical CPR Device, which is now carried on all LVAC vehicles.

LVAC Among First EMS Ambulance Corps to Use
Blood Sampling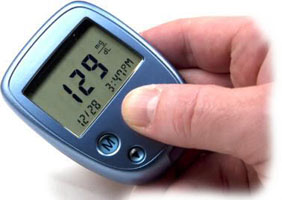 The Lewisboro Volunteer Ambulance Corps is among the first EMS Volunteer Ambulance Corps in Westchester County authorized to use blood sampling as part of its patient assessment protocols. Pre-hospital blood sugar evaluation is intended to assist in the recognition of abnormal glucose levels and improve the speed with which proper treatment is received. Hypoglycemia (low blood sugar), along with hyperglycemia, (high blood sugar) are both potentially serious medical conditions. Using a device familiar to diabetics called a Glucometer, which contains a lancet and electronic measuring capability, LVAC EMTs can now quickly detect blood glucose anomalies enabling them to provide early treatment and speedier triage decisions.
"Prehospital glucometry is a safe, effective and minimally invasive procedure used by EMS professionals around the country," commented LVAC Captain Robert Stoddard. "A variety of medical conditions and patient presentations warrant prehospital blood glucose analysis. An altered mental status is the most common adult chief complaint that triggers a blood glucose measurement by EMS personnel," he added. Before this policy change by the New York State Emergency Medical Advisory Committee authorizing EMTs to provide blood sugar analysis in the field, only Paramedics were authorized to do the testing. According to Captain Stoddard, LVAC applied for the authorization and has completed all the requirements and training of LVAC's EMTs and Crew Chiefs. He acknowledged the "excellent" support of Dr. David Zuckerberg in managing the application process. Dr. Zuckerberg is a member of Northern Westchester Hospital's Emergency Department and also serves as LVAC's Medical Control physician contact.


LVAC Hosts Another Successful Bake Sale!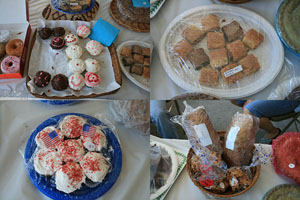 Thanks so much to all the bakers who brought their creations and to all the wonderful folks who bought them as part of our 2014 Bake Sale to support the work of the Corps!

LVAC Christens New Ambulance June 3, 2014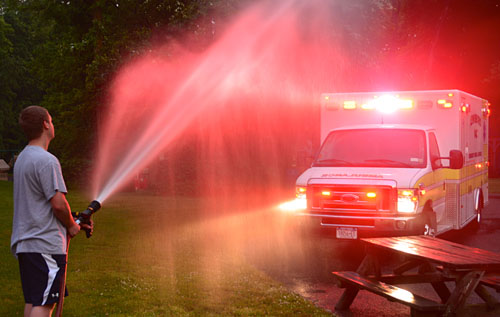 Lewisboro Volunteer Ambulance Corps invited the Community to attend a "Wet-Down" ceremony to mark the launching of its new ambulance at the Lewisboro Town Park on June 3rd.
"It's a special tradition," commented LVAC Captain Bob Stoddard, "and not unlike the christening of a ship. Historically it has been a long-standing ritual of the fire and ambulance service, especially Fire Service volunteers, who ritualistically commission a new vehicle by anointing it with water to keep them safe."
During the Town Park ceremony, fire apparatus and crews from the South Salem Fire Department kept the tradition alive by "spraying down" LVACs new rig, officially listed as 67B2 by Westchester County Department of Emergency Services.
"We're very happy and honored that our fellow First Responders from South Salem joined LVAC to keep the tradition alive," commented Stoddard, and thanked members of the community for taking part in the ceremony."
A highlight of the "wetdown" ceremony was the simultaneous appearance of a rainbow over the event (see photo above).
The History of the 'Wet-Down'
The ritual dates back to the late 1800's, when horse- drawn pumpers were used throughout the nation's fire service. Horses that were commissioned for service would be washed along with the pumper at their newly assigned firehouse and backed into the firehouse bay. The firefighters would then fit the new horse with its harness placing the company in service. After every run, firefighters had to hand push their pumpers back into the bay and prepare for the next alarm.

LVAC gets First Look at New LUCAS CPR Device
EMTs Doug Hux and Dan Murtha get some hands-on experience with the new device.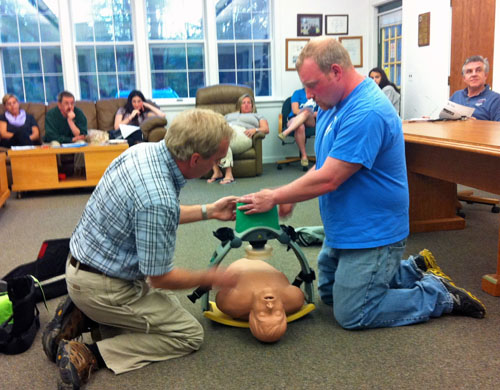 LVAC's first drill of the month was focused on the new LUCAS mechanical CPR device. A representative from the LUCAS company discussed its application and LVAC members broke up into teams and practiced on the machine.

Adam Rose and Peter McQuillan Donate $50,000 to LVAC Ambulance Fund
(L-R, LVAC President Ann Hirsch, Adam Rose, Peter McQuillan, and LVAC Vice President Nancy Musich)
LVAC President Ann Hirsch gratefully accepts a check for $50,000 from Cross River philanthropists Adam Rose and Peter McQuillan to aid in the purchase of LVAC's new ambulance. Thank you SO much, Adam and Peter!

LVAC Members Join Medical Team Headed to Haiti
Three members of the Lewisboro Volunteer Ambulance Corps will join other medical volunteers leaving for Haiti on June 1 as part of a humanitarian effort created after a major earthquake struck the small country in 2010. LVAC's Celine Graae, Samson Desamour and Riley Dejong, above, will team up with doctors, nurses, a physical therapist as well as pre-med, nursing and pharmacy students for the eight-day trip starting June 1.
The trip is sponsored by Hands Up For Haiti, a medical humanitarian group set up by volunteers following their return from Cap Haitien, on Haiti's Northern Coast after the 2010 earthquake. The group's mission is to improve the quality and sustainability of health care in the region, partnering with the Haitian medical community by sending medical teams, supplies and equipment as well as providing education, training and clinical work. During their visit the LVAC team will rotate among clinics in Cap Haitien as well as running several community outreach clinics and conducting CPR training with the Red Cross.
LVAC President Ann Hirsch applauded the initiative of the LVAC volunteers, "We are very proud of these younger members of the Corps for their participation in this very important program. The opportunity to use their skills in providing hands on care and education will benefit them as well as the people in Haiti."
This will be the second LVAC humanitarian visit to Haiti. In the aftermath of the devastating 2005 Hurricane Katrina, a group of LVAC volunteers joined other teams from around the country providing critical medical treatment to victims.
For Samson Desamour, a native of Cap Haitien, returning to his hometown with his LVAC partners is "the fulfillment of a dream, to be able to go back and help my people with their basic needs and to provide them with much needed medical care and education." Desamour came here last year to attend Westchester Community college in their EMT program. "Being a part of the LVAC team is also very important to my education here," he commented. To support the LVAC team fund their trip go to the Hands Up For Haiti website: www.handsupforhaiti.org

LVAC Stands By at 2014 Leatherman's Loop 10K Trail Run in Ward Pound Ridge Reservation
For yet another year, LVAC stood by with the fly car and two ambulances at the 28th Annual Leatherman's Loop 10K Trail Run. Conditions for the race during the last few years have been cool, wet & slippery. There has been lots of mud resulting in lots of slip and falls, and lots of skinned knees and shins, plus numerous rolled and some potentially fractured ankles. LVAC treated about a dozen or so participants in their tent.

2013

Total Runs: 416

Patients Transported: 320

Call Type

Medical: 273

Trauma non-MVA: 85

Trauma MVA (Motor Vehicle Accident): 36

Stand-by: 22

Call Location

Cross River: 111

Goldens Bridge: 103

Katonah: 7

South Salem: 139

Waccabuc: 27

Mutual Aid (calls covered for neighboring towns): 29

Destination

Northern Westchester Hospital: 280
Westchester Medical Center: 12

Danbury Hospital: 14
Norwalk Hospital: 5
Putnam Hospital: 3