New LVAC Ambulance Arrives!
LVAC's new ambulance, built by PL Custom Emergency Vehicles of Manasquan, New Jersey, has arrived and is now in service at the Corps as Ambulance 67B2. It is replacing the current rig 67B2, purchased by LVAC in 1999, and features a gasoline engine (previous rigs have been diesel) and a Stryker hydraulic cot and loader to help volunteers in handling patients. The same cot/loader has just been installed on LVAC's 67B1 rig, which will be retained to serve alongside the new ambulance.
Thanks so much to the generous citizens of Lewisboro whose donations have allowed us to make this purchase!

2013 LVAC Auction a Big Success!
Lewisboro Lions President Tony Goncalves presents LVAC President Ann Hirsch with a check for $5000 toward the purchase of LVAC's new ambulance at the 2013 LVAC Auction.
The LVAC Annual Auction 2013 was a great night for the community! Everyone was excited about the new ambulance LVAC will be buying - many turned out in support!
More help is still needed, and donations can be made to
LVAC
P. O. Box 41

South Salem, NY 10590

or on our website here.

If you missed the auction, here are some photos of this fabulous event:
LVAC Starts Drive for New Ambulance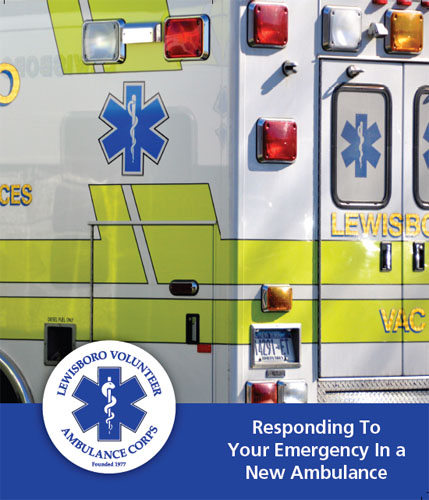 As the Lewisboro Volunteer Ambulance Corps were marching during a recent Memorial Day Parade, a woman was heard commenting to her companion, "This is an important group. If you get sick or hurt, they come for you." Well she's right, we do "come for you," as we've done for over 36 years, every hour and day of the year. This means coming to you with skilled EMT's as well as modern ambulances completely equipped with the highest quality pre-hospital emergency medical systems and equipment. This combination of medical expertise and fast transport can be the difference between life and death.
WHAT DO WE NEED?
LVAC needs to acquire a new ambulance to assure continued uninterrupted emergency medical response to the Community. We are truly the "last free ride" as we receive no funding from any Federal, State or Local sources, and we do not charge patients for the care we provide. It is our privilege to do so.
WHAT'S THE PROBLEM?
A new ambulance is a very expensive project, with a fully equipped Rig costing upward of $180,000. Since this is an especially significant
acquisition, it requires that we seek out a Leadership Team of individuals who may be uniquely positioned to respond in an extraordinary way.
WHERE DO YOU FIT IN?
As part of that Team we need your support to move ahead with this important purchase. Fifteen donations at $10,000 each or thirty
donations at $5,000 will guarantee our success, with the balance made up by contributions from the broader community. Donations
are tax-exempt.
MAY WE HAVE YOUR SUPPORT?
Just as we respond to Lewisboro's emergency medical needs, we now ask that you consider responding to our need for a new ambulance
with a Leadership Gift that will assure LVAC continues responding with the highest quality care.
PLEASE CALL US.
Members of LVAC's Board Of Directors will gladly meet with you to answer your questions.
You may call
Captain Bob Stoddard, 763-3589
Sue Herzog, Assistant Captain, 763-0186
Ann Hirsch, President, 232-2183 or
Nancy Musich, Vice President, 533-2351.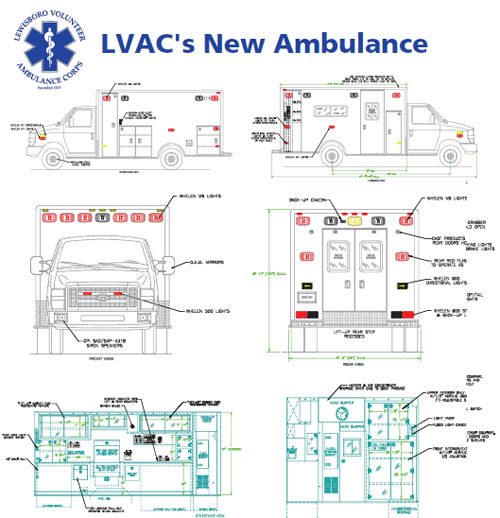 2012

Total Runs: 457

Patients Transported: 370

Call Type

Trauma MVA (Motor Vehicle Accident): 39

Trauma non-MVA: 110

Medical: 282

Stand-by: 26

ALS (Advanced Life Support): 147

Pediatric (under 18 years of age): 46

Geriatric (age 70 and above): 157

Four Winds: 30

Call Location

Cross River: 106

Goldens Bridge: 125

South Salem: 165

Waccabuc: 41

Mutual Aid (calls covered for neighboring towns): 20

Patients Transported: 370

Refused Medical Attention: 64

Cancelled: 20

No Patient Found: 5

Other: 3

Destination

Northern Westchester Hospital: 342
Westchester Medical Center: 11
Norwalk Hospital: 2
Danbury Hospital: 9
Putnam Hospital: 6