South Salem Fire Department Demonstrates Rapid Gear Removal for Firefighter CPR in Joint Drill With LVAC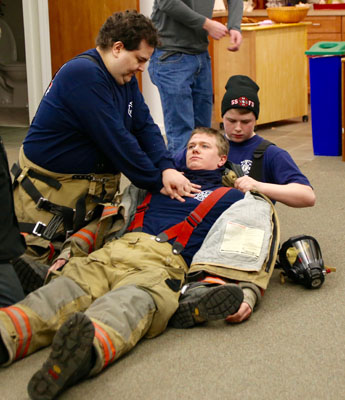 Members of the South Salem Fire Department, led by Fireman / EMT Steve Creedon demonstrated a new life saving technique for firemen who may suffer a cardiac arrest while at the scene of an emergency. In a display of practical choreography, CPR compressions are immediately started while other first responders coordinate the removal of heavy turn out coats, gear, helmets, boots, O2 masks and self contained breathing apparatus (SCBA), all in one swift, efficient movement that does not interfere with the application of CPR compressions given by one of the rescuers. Above, at LVAC's Headquarters on Route 35, Fire Fighters Scott Schoenberg simulates providing continuous CPR compressions with Donald Wicks as victim while Cody Harris takes up position to set up the rapid removal of gear and tank by other rescuers. After the demonstration, LVAC members took turns learning the new technique.


LVAC Supports the First Annual Ravens Rock Run
LVAC members treated several of the runners in the first annual Ravens Rock Run in Ward Pound Ridge Reservation on Sunday, November 15, 2015.

LVAC Supports South Salem FD Open House
LVAC members Dan Murtha, Celine Graae, and Mike Kis

LVAC Salutes Six 100 Calls/1000 Hours Members

At its annual Awards Luncheon, LVAC saluted the riding members who had exceeded 100 calls or 1000 hours of service during 2014.

(L to R) Celine Graae, Bob Stoddard, Dan Murtha, and Jason Hinkley (Missing: Lucian Lipinsky and Kevin Norton)

LVAC Among First EMS Ambulance Corps to Use
Blood Sampling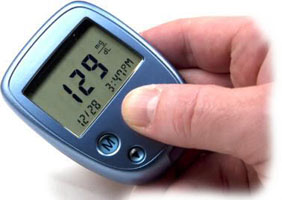 The Lewisboro Volunteer Ambulance Corps is among the first EMS Volunteer Ambulance Corps in Westchester County authorized to use blood sampling as part of its patient assessment protocols. Pre-hospital blood sugar evaluation is intended to assist in the recognition of abnormal glucose levels and improve the speed with which proper treatment is received. Hypoglycemia (low blood sugar), along with hyperglycemia, (high blood sugar) are both potentially serious medical conditions. Using a device familiar to diabetics called a Glucometer, which contains a lancet and electronic measuring capability, LVAC EMTs can now quickly detect blood glucose anomalies enabling them to provide early treatment and speedier triage decisions.
"Prehospital glucometry is a safe, effective and minimally invasive procedure used by EMS professionals around the country," commented LVAC Captain Robert Stoddard. "A variety of medical conditions and patient presentations warrant prehospital blood glucose analysis. An altered mental status is the most common adult chief complaint that triggers a blood glucose measurement by EMS personnel," he added. Before this policy change by the New York State Emergency Medical Advisory Committee authorizing EMTs to provide blood sugar analysis in the field, only Paramedics were authorized to do the testing. According to Captain Stoddard, LVAC applied for the authorization and has completed all the requirements and training of LVAC's EMTs and Crew Chiefs. He acknowledged the "excellent" support of Dr. David Zuckerberg in managing the application process. Dr. Zuckerberg is a member of Northern Westchester Hospital's Emergency Department and also serves as LVAC's Medical Control physician contact.

2015

Total Runs: 385

Patients Transported: 294

Call Type

Medical: 252

Trauma non-MVA: 74

Trauma MVA (Motor Vehicle Accident): 40

Stand-by: 19

Call Location

Cross River: 107

Goldens Bridge: 110

Katonah: 3

South Salem: 111

Waccabuc: 30

Mutual Aid (calls covered for neighboring towns): 46

Destination

Northern Westchester Hospital: 255
Westchester Medical Center: 12

Danbury Hospital: 13
Norwalk Hospital: 1
Putnam Hospital: 5