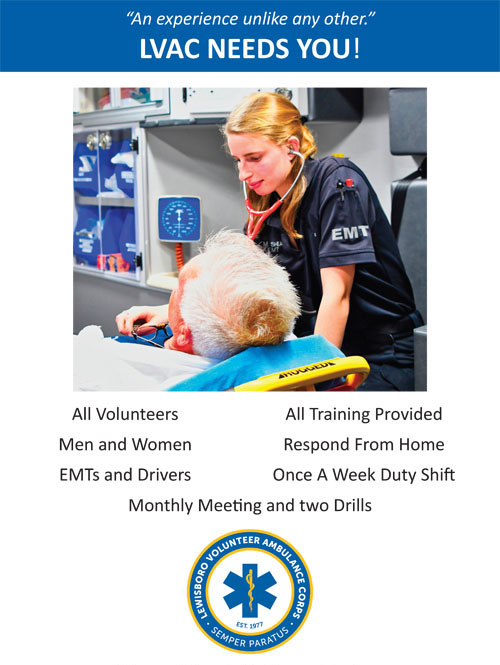 LVAC always needs and welcomes new riding members. No prior training or experience is necessary. We will provide you with all the training that you need to get started, including First Aid and CPR for the Professional Rescuer.
To join as an adult member, you must be 18 years old and live or work in town. Training is free and provided by LVAC. Riding members of LVAC are required to attend our general meeting on the first Tuesday evening of each month and our two monthly training drills on the second and fourth Tuesday evenings of the month. Full-time riding members must serve a minimum of twelve hours each week. There is also the possibility of joining on a part-time basis.
Junior members must be a minimum of 16 years of age, and are typically juniors and seniors in high school. They receive the same training, perform the same duties, and have the same responsibilities as our adult members. They serve between four and six hours each week, as their schedule permits. The deadline for junior corps applications is May 1st prior to their junior year.
Click here to complete an adult application form.
Click here to complete a junior application form.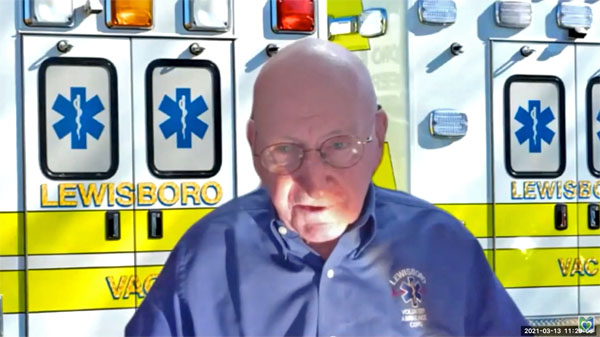 Click on the photo above to view LVAC's Jim Reilly presenting at the 2021 "Zoomed" Lewisboro Library Volunteer Fair.

Some highlights of your membership in LVAC
The Lewisboro Volunteer Ambulance Corps is an all-volunteer group of your friends and neighbors that responds to medical emergencies every day and night of the year. They are highly trained and capable of handling a wide range of medical emergencies. Our primary needs are Emergency Medical Technicians and ambulance drivers. We will offer you training in both categories.
• LVAC is a diverse group of men and women who are teachers, businesspeople, entrepreneurs, nurses, spouses, tradesmen, retirees, parents, grandparents and junior members.
• You will participate on your own time, usually during a twelve-hour day or evening "duty shift" once a week. You are not required to stay at LVAC headquarters when on duty, but you must be in town.
• You will be on call from your home or place of business, if in town. You will be equipped with a pager that alerts you to a call and a two-way radio allowing you to communicate with other members on duty with you during your shift.
• Initially, after training in First Aid, CPR, and rig orientation, you would sign up for a "duty shift" that works around your schedule. You would respond to an emergency along with the duty "crew" - An EMT crew chief, a driver and a first aider, you. Most emergency calls last about ninety minutes.
• To become a driver, you must be at least 21 years of age, be trained as a First Aider (CPR and First Aid) and then undergo specialized emergency vehicle driver training at LVAC.
• Over time you will have the opportunity to assume leadership roles in both the operational and administrative side of the Corps.
It takes a special person to work on an ambulance and the experience is unlike any other. The ability to provide direct relief and comfort to people in stressful circumstances is priceless. Please contact us so we can answer any of your questions.
* * * * *

LVAC also encourages non-riding membership. Non-riding members help with fund raising, building and grounds maintenance, and other non-ambulance response duties.

If you are interested in membership, please contact us to receive an application.
GIVE A LITTLE TIME AND MAKE A BIG DIFFERENCE!!!